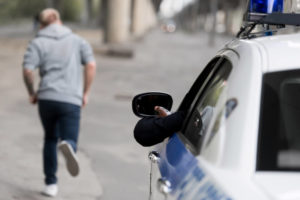 Hoboken Resisting Arrest Attorney
Criminal Attorneys for Clients Charged With Resisting Arrest in Hoboken, New Jersey
Hoboken, New Jersey has morphed from the blue-collar birthplace of Frank Sinatra to an upscale locale adorned with shops, restaurants, and condominiums. With its eyes set on the Hudson waterfront, Hoboken attracts inhabitants and visitors from everywhere. The popularity should come as no surprise, as the town was voted runner-up for the best place to live in 2019 by Niche Magazine. Unfortunately, whether you are a local worker, a visitor, or a commuting urban professional, the town does not discriminate when it comes to charges for resisting arrest. Whether it is you, your friend, or someone else you know, you may be charged with resisting arrest in Hoboken if you fail to heed an officer's instructions by refusing to submit to an arrest.
The charge of resisting arrest/eluding a police officer is serious, as you can be sentenced to jail or even state prison if found guilty. The amount of jail time and the indelible mark on your criminal record varies depending on whether you have been charged with a disorderly persons offense (misdemeanor) or an indictable crime (felony). In either scenario, Hoboken resisting arrest charges must be taken seriously and aggressively defended against. If you are interested in securing the best possible outcome, it is highly advisable to seek help and defense counsel from an experienced criminal lawyer in Hoboken NJ. Contact us at (201) 793-8018 to discuss your case in a free consultation.
Resisting Arrest Charges Under N.J.S.A. 2c:29-2 in Hoboken NJ
Simply put, if you are being placed under arrest, you must submit to the arrest. You cannot tug, or pull away, punch, kick, run, or flee on foot or in a car. Even if you are falsely arrested, you must comply with the commands of the officer who is arresting or stopping you in your car. The law requires you to do so, lest you be arrested and charged with the additional offense of resisting arrest. Legislators, Officers, Prosecutors, and Judges are all interested in creating and maintaining laws that provide structure and security for those within the state. Without the laws, those in charge believe that there would be utter chaos and a lack of peace and enjoyment for everyone. For this reason, the police who are charged with enforcing the laws and maintaining order receive the utmost protection under this provision of the law. Therefore, anyone who demonstrates a disregard for the officer is seen as a menace, a risk to the officer's safety, and thus, open for companion criminal charges and punishments.
Things are not always as simple as they appear and people often commit crimes of resisting arrest without even intending to, especially in highly populated and busy cities like Hoboken. Often, resisting arrest is not a well thought out plan, but is instead a knee-jerk reaction to specific events. For example, if someone grabs you, you may instinctively pull away. This is often the case for those charged with resisting arrest.
In Hoboken, people are out and about meeting with friends, drinking, and just having a good time. Sometimes, people get out of control and start fighting. But what if during a fight, you try helping your friend by breaking up the fight and in doing so, the officer grabs you, attempting to arrest you, and you intuitively pull away, refusing to allow him to grab your hands? Although perhaps you should not have been arrested and you merely reacted, you can still be charged with resisting arrest in the form of a disorderly persons offense.
That is not to say that there are no defenses available in that situation. However, the police will often arrest first and ask questions later. An attorney can flesh-out what really happened by interviewing other people who may have been involved or witnessed the incident, and focusing on your intentions. Our skilled criminal defense attorneys may set out to prove that you were unaware that the person grabbing you was an officer and therefore, you had no intention of resisting arrest. In addition to any acts committed, the state must prove that you purposely, knowingly, or recklessly committed a crime. Trying to break up a fight and not realizing that an officer was arresting may be used to establish that you had no intention of committing a crime and therefore, should not be found guilty.
Degrees of Resisting Arrest & Eluding Police Offenses in Hoboken NJ
Disorderly Persons Resisting Arrest Offense
You can be charged with a disorderly persons offense if it is proven that it was your intention to stop the officer from arresting you. The example above is a disorderly persons offense because the person is alleged to have pulled away. Similarly, if you failed to pay your bar tab somewhere along Miles Square, and the police approach with the notion of arresting you and you make the impromptu alcohol-ridden decision to hide by diving under or behind a parked car, you may be charged with this offense. The penalties for disorderly persons resisting arrest may include: 180 days in the county jail, probation, up to $1,000 fine, court costs, $125 in mandatory fines, and the offense on your record
If charged with a disorderly persons offense, you will go to Hoboken Municipal Court located at 100 Newark Street. Not all cases are heard in Municipal Court, as it is specifically reserved for disorderly persons offenses, traffic offenses, and violations of town ordinances. Conduct that threatens or causes more more harm will be charged as an indictable crime and your case will be sent to Hudson County Superior Court in nearby Jersey City.
Indictable Felony Crimes for Resisting Arrest, Eluding an Officer in Hoboken
Convictions for indictable crimes permit Judges to sentence you to a term in New Jersey State Prison. The term of the prison sentence depends upon the degree of the crime. Crimes in New Jersey are set forth as 1st, 2nd, 3rd, and 4th degree. If convicted of a first or second degree crime it is almost certain that you will go to state prison if convicted, unless an alternative sentence is agreed to and approved by the presiding judge. For third and fourth degree crimes, the judge does not have to send you to prison but can do so, if circumstances permit. For resisting arrest and eluding police charges, depending on the alleged facts, the state can prosecute you for a 2nd, 3rd, or 4th degree crime.
In most cases, people run from police because they know that they are wanted for a crime or disorderly persons offense, or are simply afraid to be questioned or arrested. This appeared to be the case in a recent arrest of a man fleeing from police on a bicycle near 8th Street in Hoboken. In that case, the police allege that they witnessed the man steal a bicycle and head towards 10th Street. The officer identified himself as an officer and the man allegedly took off with the officer running behind him on Washington Street. Eventually, the defendant was caught and charged with many offenses, including possession of a controlled dangerous substance and resisting arrest by flight.
The act of fleeing from officers was likely charged as a fourth degree crime. This offense is the lowest level indictable felony offense that a person can receive. This charge is permissible where no real harm caused or risk of harm caused by your behavior. Merely fleeing to avoid arrest, without more, will permit such a charge and if convicted, you could spend the next 18 months in a New Jersey State Correctional Center.
However, if your actions did cause a risk of harm or actual harm was suffered by the public (including the officers), you may be charged with a second or third degree crime. Examples and potential sentences for such offenses include:
Third degree eluding/resisting arrest: In attempting to flee or avoid arrest, you use or threaten to use physical force or violence, or you create a risk of injury to the officer or another. For example, if the officer tries to arrest you and you kick, punch, or push him. You can also be charged with a third degree if you use a motor vehicle or boat to flee police. So, if you take your boat out on the Hudson and think you can avoid capture by taking off, think again, as you can be charged with a third degree crime. If caught and convicted, you face 3-5 years in state prison and a potential requirement to pay up to $15,000 in fines. In addition, you may lose your license for as much as two years.
Second degree eluding/resisting arrest: It is an offense of this degree to create a risk of death when attempting to elude an officer. This often occurs when someone is driving under the influence and in attempting to avoid capture, they lead the police on a high-speed chase. In Hoboken, anyone attempting to flee at a high rate of speed will undoubtedly create a risk to pedestrians and officers alike. For this reason, the law allows the judge to sentence you to 5-10 years in state prison if convicted, to pay as much as $150,000 in fines, and to suspend your driver's license for 2 years.
Contact Hoboken Resisting Arrest Defense Lawyers Near You
As knowledgeable Hoboken criminal defense attorneys, we know that not everything is as it seems and we therefore carefully analyze the state's case by listening to you, reviewing the evidence, and evaluating police recordings. There are many ways to defend your case, but the first step is contacting our office today for a free consultation. Call us at (201) 793-8018 to learn more.