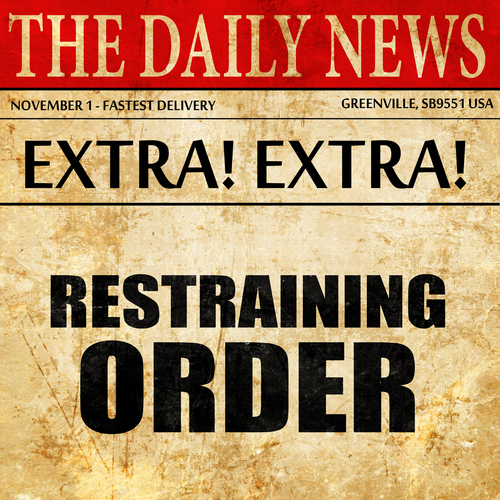 Temporary Restraining Order Attorney in Hudson County
HUDSON COUNTY NJ TEMPORARY RESTRAINING ORDER LAWYER
New Jersey lawmakers passed important legislation in the early 1990s to protect victims of domestic violence through restraining orders, also known as protective orders. A restraining order is intended to protect a victim of domestic abuse from being contacted, threatened, or physically assaulted by their abuser. The first step in the restraining order process is to file a Temporary Restraining Order, which will remain in effect until a hearing in Family Court, at which time a judge will decide if there is sufficient grounds to place a permanent restraining order in effect. It is important to understand that before you can obtain a permanent or Final Restraining Order "FRO" against someone, you must first convince a judge or court official that you are in need of a Temporary Restraining Order "TRO." If you are the victim or the alleged abuser in a domestic violence case in New Jersey, having an experienced lawyer on your side who understands the complexities of the restraining order process can spell victory or defeat at your final restraining order hearing. At William Proetta Criminal Law, our experienced New Jersey domestic violence attorneys represent both plaintiffs and defendants in restraining order proceedings. To find out how we can help you with a restraining order matter in New Jersey, contact us now at (201) 793-8018 or fill out our online form to arrange an absolutely free consultation. The potential for a negative outcome is simply not worth the risk.
WHO CAN GET A TEMPORARY RESTRAINING ORDER IN NEW JERSEY?
A TRO is designed for emergency relief for a victim of domestic violence to provide protection before a Superior Court Judge can hear all the specifics of the relationship and circumstances of the domestic violence case, to determine whether a FRO is necessary for permanent protection. In order to obtain a Temporary Restraining Order in New Jersey:
The plaintiff must be considered a "victim" as defined under the Domestic Violence Act, N.J.S.A. 2C:25-18 and 2C:25-19d which normally means substantiating a domestic relationship between the victim and defendant;
The defendant must have committed one of the 14 acts constituting domestic violence under 2c:25-19a such as stalking, trespassing, simple assault, criminal restraint, harassment, etc.;
The victim must have satisfied one of criteria set out in 2C:25-28(f),(g), or (i), which normally means showing a need for emergency relief.
It is important to note that the burden of proof when requesting a TRO is relatively low in New Jersey, meaning a person can make a variety of false claims regarding threats or abuse and reasonably expect to obtain a Temporary Restraining Order. Without the necessary evidence to substantiate these claims in a Final Restraining Order hearing, an experienced NJ restraining order attorney may be able to have the restraining order dismissed at trial.
WHAT PROTECTIONS DOES A TEMPORARY RESTRAINING ORDER (TRO) GIVE IN NJ?
A Temporary Restraining Order may contain a variety of provisions, or "relief," for the alleged victim of domestic violence. First and foremost, there can be no communication or contact by the defendant once the TRO is in place . If the defendant makes a communication while the TRO is pending, he or she will be charged with a separate offense for violation of a restraining order. This charge will still remain even if the restraining order is later dismissed at the FRO hearing. Some additional requirements that a Judge may include in a TRO include: the defendant must leave the home if it is shared with the plaintiff, the defendant must forfeit any firearms or weapons in their possession, and an emergency child custody modification may be placed in effect. The most important thing to remember is that violating any of the rules contained in the Temporary Restraining Order may lead to criminal charges for contempt.
HOW DOES A TEMPORARY RESTRAINING ORDER BECOME AN FINAL RESTRAINING ORDER?
Because a TRO is temporary by nature, an FRO Hearing must be set within 10 days of the date that the Temporary Restraining Order was issued. The court date can be further delayed for several reasons but overall these cases move much quicker than criminal charges. It is the plaintiff or victim's burden to prove and substantiate by a preponderance of the evidence that the domestic violence actually took place and that because of it, they are now in need of an FRO to give them permanent protection. The plaintiff always has the ultimate say over whether they want to proceed or not to a FRO hearing. If they decide to drop the pending TRO against the defendant they will normally need to appear before a Superior Court in person even if they did not need to appear in person to originally get the TRO.
Due to the expedited nature of restraining order proceedings in New Jersey, it is absolutely critical to prepare a comprehensive case prior to your hearing. Our restraining order attorneys help devise the most compelling case on your behalf, which may include text messages, emails, phone calls, witness statements, and other materials that support your case.
IS A RESTRAINING ORDER A CRIMINAL CHARGE?
If you are arrested for a criminal act of domestic violence such as simple assault, harassment, or terroristic threats in Hudson County, New Jersey there is a good chance that you could be facing a temporary restraining order based on the victim's wishes. It is important to note that the criminal charges will be handled by a different judge and court proceeding than the TRO hearing which is heard by a Family Court Judge in Hudson County Superior Court. This is not considered double jeopardy because the restraining order is a civil proceeding while charges such aggravated assault or criminal mischief are criminal proceedings.
TEMPORARY RESTRAINING ORDER IN JERSEY CITY, NJ
If you are involved in a restraining order case in Hudson County, New Jersey, it is essential to enlist knowledgeable legal counsel. Our seasoned New Jersey domestic violence attorneys will go over the facts and circumstances of your case during a free initial consultation and explain how we may be able to help you. Contact our office in Jersey City at (201) 793-8018 to speak with an experienced domestic violence lawyer today.