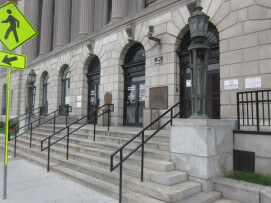 Newark Criminal Defense Attorney
Newark NJ Defense Attorney
Criminal charges and traffic violations can become very complicated and can carry serious penalties if you are found guilty. An experienced defense lawyer can often mitigate these consequences by challenging the state's case against you to secure a downgrade or even a dismissal altogether. At William Proetta Criminal Law our attorneys have handled thousands criminal charges and serious motor vehicle offenses for our clients throughout New Jersey include Newark. We represent clients in Newark who have been charged or arrested for North Bergen Simple Assault Lawyer, Theft by Deception, Possession of Marijuana, Resisting Arrest, Burglary, Trespassing and Robbery. If your case is sent to Essex Superior Court we will work with the County Prosecutor's Office to negotiate a downgrade of your charges or even a remand to Newark Municipal Court. Our lawyers know how the system works and how to get results for our clients. If you are interested in speaking with a Newark criminal lawyer then contact our office for a free initial consultation at (201) 793-8018.
Newark NJ Municipal Court Information
Newark is home to more than 277,000 residents making it the second largest city in the New York Metropolitan area. The city has changed substantially since taking an economic downturn after the 1930's when it had almost a half million residents. Today, Newark has become an epicenter for crime earning itself the nickname "Car Theft Capital of the World" and is also inundated with violent crimes such as aggravated assault and drug distribution of heroin, cocaine, and marijuana. The City is served by the Newark International Airport and several major highways including the New Jersey Turnpike I-95, Interstate 280, Interstate 78, the Garden State Parkway, U.S. Route 1/9, U.S. Route 22, and Route 21. Newark is also connected to the Holland Tunnel and Lower Manhattan by the Pulaski Skyway. This large population and huge traffic corridor makes Newark Municipal Court one of the busiest courts in the entire state. The Newark Municipal Court is located at 31 Green Street in Newark, New Jersey 07102. The Newark Municipal Court has a staggering twelve municipal court judges and holds sessions everyday from 8:30 a.m. to 4:00 p.m. and weeknights starting at 4 p.m. The municipal court handles criminal charges including all disorderly persons offenses and petty disorderly persons offenses as well as traffic violations and municipal ordinances. For additional court information regarding your court date please contact the court at 973-733-6520.
Newark NJ Assault Defense Lawyers
If you are reading this article, chances are you or even a loved one is facing criminal or serious motor vehicle charges in Newark, New Jersey. An experienced attorney can mean the difference between a dismissal or downgrade of your charges and a guilty verdict. Our law firm defends clients in Newark who have been charged with serious traffic tickets including DWI, Driving Without Insurance, Leaving the Scene of an Accident, and Driving While Suspended. These offenses carry serious penalties such as loss of your driver's license and even jail time. As a rule of thumb, prosecutors will typically try to prosecute these charges to the fullest extent allowed under the law to make an example for other defendants. At our law firm, our attorneys make it a point to challenge the state at every turn to protect our client's rights and keep you well-informed throughout the entire process so you know exactly what is going on. If you would like to learn more about potential representation, contact our office at (201) 793-8018 for a free consultation. Our representatives are available 24/7 to answer your call.