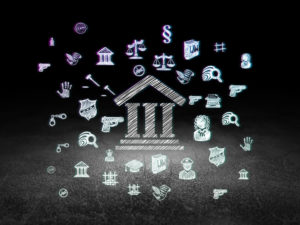 Toms River 3rd Degree Crime Attorney
Defense Attorneys for Third Degree Crimes in Toms River, New Jersey
One night in Toms River, things got out of hand and you were arrested for a third degree crime. Perhaps it is your first time in the township or your first run-in with the law. Knowing the nature of the crime you're charged with and what to expect in the legal process can help you feel less frightened about what lies ahead. Being charged with a third degree crime in Toms River, New Jersey will require you to appear in Ocean County Superior Court, where you will be prosecuted by the Ocean County Prosecutor's Office. These are serious indictable offenses, meaning you are now exposed to a state prison sentence and a felony conviction on your criminal record if convicted. Third degree crimes range from aggravated assault to possession of a controlled dangerous substance (CDS) and you will need an experienced criminal defense attorney who knows how to defend against your specific case. For help and answers from the local Toms River criminal lawyers at William Proetta Criminal Law, contact our office today at (848) 238-2100. You can also contact us online to request a free consultation where we can explain what you are facing and begin devising your best defense strategy.
Third Degree Crime Charges in Toms River NJ
Indictable third degree crimes in Toms River and New Jersey come with a 3 to 5 year prison sentence, a fine potentially amounting to $15,000, plus a criminal record. Indictable crimes are those for which a grand jury is assembled to determine if the prosecution has enough evidence to formally indict the person and take the case to trial if necessary. First, second, third and fourth degree crimes require indictment to proceed through the criminal justice system. Some of the third degree crimes for which you may be arrested in Toms River include:
While certain crimes are classified as third degree crimes, others become third degree crimes under specified conditions. For example, dollar amounts distinguish a third degree from a second degree crime in shoplifting cases. So, shoplifting merchandise worth over $75,000.00 is graded as a second degree crime but under $75,000.00 and over $500.00 is a third degree crime. Sometimes the grading of a crime depends on the specific items in a forbidden category, the location of the crime and the amount of the item in question.
Charged with a 3rd Degree Crime in Toms River, What am I Facing?
If charged with, and indicted for, a third degree crime in Toms River, you are facing three to five years of incarceration, as well as probation, fines and community service. Since third degree crimes are not as serious as those of the second or first degree, both presumptively punishable by incarceration, violations classified as third degree are presumed not to be punishable by incarceration for a first offense. This means that diversionary programs, like the Pretrial Intervention Program or drug rehabilitation through the Drug Court Program, are often available if first timers qualify. These programs are designed as early intervention programs to address charges for a crime without the need for a trial or a negative impact on the accused person's criminal record. If you successfully complete PTI or a similar program, you have the benefit of getting your charges dismissed rather than going to jail. You will also avoid a felony conviction that would otherwise appear during a background check. Notably, even if you have a prior criminal record, it is possible for a skilled lawyer to get you probation instead of a prison sentence. Our Ocean County criminal defense lawyers always pursue an absolute dismissal as our first line of defense against third degree criminal charges in Toms River.
Common Reasons You can be Arrested for a Third Degree Crime in Toms River
Toms River, sidling the Jersey Shore in Ocean County, is a highly populated New Jersey township of about 90,000 people. It is is a popular vacation destination within driving distance of New York City, Philadelphia, and Atlantic City. Popular destinations, like mile square Ortley Beach, Barnacle Bill's amusement park, the Ocean County Historical Society, the wide array of shops, including the Ocean County Mall, diverse restaurant offerings and Ocean County's sole insect museum, Insectropolis, invite visitors from all over the country. These locations are also heavily patrolled by police who seek to maintain order and often make arrests. Most famous for the backdrop in Jersey Shore and Boardwalk TV shows and the Little League World Series, Toms River is a thriving, friendly place to live and work in, for its tourism, commerce and accessibility. For instance, major highways and county routes crisscross through the state, such as the Garden State Parkway and ten different major and country routes, some of which bottleneck during summer travel season.
Though this famous township is ranked average for safety, you're very likely to be arrested for a crime if you break the law in Toms River. Statistically speaking, charges for property crimes like theft of movable property are more common than those for violent crimes like terroristic threats. Heavy tourism in the summer brings more people and more arrests for criminal charges than other parts of the year. The historic Ocean County Superior Court is also located in Toms River, where criminal cases of the first, second, third and fourth degree are handled. So if you are arrested and charged with a third degree crime in Toms River, your case will be adjudicated in nearby Ocean County Superior Court, located at 118 Washington Street, Toms River, NJ 08754.
Consult a Toms River Third Degree Crime Defense Lawyer Today
See if you qualify for a program and what viable defenses you have against third degree criminal charges in Toms River, New Jersey. Simply contact the experienced Toms River criminal defense lawyers at William Proetta Criminal Law to find out the next steps to take to best resolve your case. There is no risk to sitting down with a qualified attorney familiar with the Ocean County courthouse and prosecutor's office. In fact, you'll get the critical information you need to defend your innocence. Call (848) 238-2100 today for a free consultation or set up an appointment free of charge.