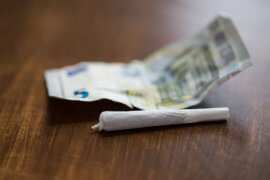 Cranford Marijuana Attorney
Need a Cranford Marijuana Possession Defense Lawyer
Cranford, centrally located in Union County, New Jersey, is called  home by nearly 24,000 people.  The town has consistently been voted one of the best places to live in the state, offering residents and visitors many things to do. Some attend school at Union County College, while others enjoy Nomahegan Park, restaurants along Walnut or South Avenues, or hop on the public transportation from Cranford Station to New York. With many businesses in the downtown district, others travel to Cranford on a regular basis to work in shops and companies large and small. There is undoubtedly something for everyone in Cranford. Due to the attractions and desirable qualities that Cranford has to offer, the town has equipped the local police with enough staff to ensure the valued characteristics of the town. In fact, the Cranford Police Department has 53 officers, civilian personnel assisting with traffic maintenance, and 8 civilian communications officers.  The police conduct traffic stops, searches, and criminal investigations on a regular basis, often arresting and charging people with possession of marijuana.
Whether you are accused of marijuana possession while trekking around town by foot, or in a car along South Avenue, the Turnpike, or Garden State Parkway, the police will arrest you if you are found with marijuana in the absence of a valid medical marijuana card. In the face of such drug charges, you should strongly consider speaking with a seasoned Cranford marijuana possession lawyer at our firm who can listen to the circumstances in your case and discuss your potential defense options. Planning for your case now, at the beginning, is critical for achieving the best results.  If you do not seek advice or act too late, you could wind up with more charges or additional consequences. Please feel free to contact us online or call (908)-838-0150, 24 hours a day, 7 days a week to receive a free consultation.
Arrested for Possession of Marijuana in Cranford, New Jersey
Possession of marijuana can result in felony charges or a summons complaint for a disorderly persons offense in violation of N.J.S.A. 2C:35-10. Generally speaking, the degree of the charge depends upon the amount of marijuana possessed and the circumstances surrounding the crime. In particular, possessing less than 50 grams of marijuana results in a summons for Cranford Municipal Court, as it is a disorderly persons offense, whereas possessing over the threshold of 50 grams will permit a warrant complaint for an indictable crime, for which you will attend Union County Superior Court in Elizabeth.  Furthermore, the court you attend is not the only difference between a marijuana disorderly persons offense versus an indictable crime. In actuality, there are vast disparities in the way that the courts can sentence you for possessing marijuana.
Possession of Less than 50 grams of Marijuana in Cranford Township
In accordance with N.J.S.A. 2C:35-10(a)(4), anyone possessing less than 50 grams of marijuana is guilty of a disorderly persons offense.  However, before you can be found guilty, the police will provide you with a notice/summons to attend Cranford Municipal Court. Here, the judge informs you that you have a right to an attorney to represent you, in addition to reading the specific charges you are facing. If it is proven that you possessed less than 50 grams of marijuana and that you knew it was marijuana, the judge has the authority to sentence you to jail time.  Specifically, you are faced with up to 180 days in jail; plus, the judge can impose a fine up to $1000 and force you to be on probation before you can successfully complete your sentence. There is yet another drug penalty of $500, which is mandatory for municipal marijuana offenses. This $500 fine is an amount that you must pay and the court cannot waive the fee.
On a positive note, if you have never participated in a prior diversionary program or had a criminal conviction in your past, you can take advantage of the conditional discharge program. This program allows you to demonstrate to the court that the incident or offense was a mistake, that you can abide by New Jersey's laws, and that you are not a habitual lawbreaker.  If successful in meeting the program requirements, your charges will be dismissed.
Cranford NJ Charges for Possessing more than 50 grams of Marijuana
Charges for an indictable crime (also known as a felony) may be filed if you are accused of possessing more than 50 grams of marijuana.  If found in possession of a larger amount of the drug in Cranford, your case will be heard in Union County Superior Court.  The degrees of felonies heard in this court include first, second, third, and fourth crimes, and the prosecutor has the right to file a motion requesting that the court hold you in jail while the charges are pending. Possessing marijuana over 50 grams will be filed as a fourth degree criminal charge.
Just as the law permits Municipal Court Judges to hand down sentences for those proven to have violated the law on marijuana possession, so too are Superior Court Judges permitted to impose sanctions. For a fourth degree marijuana possession offense, the judge can order your incarceration in state prison for up to 18 months, or they can order you to serve up to 364 days in the county jail. Unlike the jail time, there is no discretion on the drug fine (DEDR) that must be ordered, as you are required to pay $750 for this offense. Of note, the court can also impose an optional fine not to exceed $25,000, in addition to a license suspension of up to two years.
While some people may face jail or probation, others may be in a better position having never committed a crime before. If such is the case, you can be admitted into the Pretrial Intervention program (PTI) which is similar to the conditional discharge program in municipal court.  If you complete all requirements, your charges will be dismissed and you will not risk having a felony on your record.
Why am I facing additional drug charges for marijuana in Cranford NJ?
Most people charged with less than 50 grams of marijuana, or even felony marijuana possession, are charged with companion offenses.  To start off, if your offense occurred in a motor vehicle, you can receive a motor vehicle ticket for possessing the drugs in the car.  This ticket allows for additional fines and requires you to forfeit your New Jersey Driving privileges for a required period of two years.  This suspension could be issued on top of the license suspension that can be imposed for simply possessing the drug.
Additionally, the cops may charge you with being under the influence of the marijuana. Even if they can't prove that the pot was yours, they may be able to prove that you were, in fact, high. If true, you can be found guilty of a disorderly persons offense and face the same penalties as those for possessing the drug in an amount less than 50 grams. Similarly, you can be charged with the disorderly persons offense of failure to turnover CDS under N.JS.A 2C:35-10(c), which has the same impact.  Lastly, for a bowl, baggie, or rolling paper found in conjunction with the weed, you can receive yet another charge for drug paraphernalia. Being under the influence, paraphernalia, and failure to turnover all have their own mandatory drug penalty of $500 and you could even be ordered to pay all three. Even worse, if you have more than five disorderly persons offenses on your record, you may not be able to expunge them all in the future.
Aside from these offenses, marijuana distribution charges can be filed in the first and second degree when significantly more marijuana is found. Third degree possession with intent to distribute charges can also apply under certain circumstances.
Call a Cranford NJ Marijuana Attorney for Your Best Defense
Being arrested for marijuana in Cranford can bring about many different charges, consequences, and penalties. If you retain a lawyer on our team, we will review the evidence provided by the prosecutor, go over the case with you, inform you of your rights, and defend you to the fullest possible extent. Don't risk an outcome that isn't the top available options. We can prepare you for what to expect when facing prosecution for marijuana possession and related drug crimes while simultaneously combatting the charges against you. For further information and a cost-free consultation, contact us at (908)-838-0150 today.