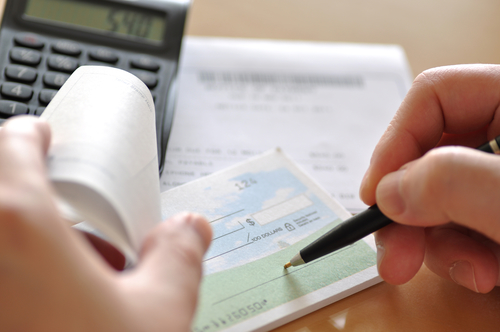 Passing Bad Checks Attorney in Middlesex County
Woodbridge NJ Bad Checks Lawyer
Defense Attorneys for Writing Bad Checks in Middlesex County, New Jersey
The criminal charge of check fraud results from writing bad checks. Even if it is an honest mistake or business deal gone wrong, check fraud may be a serious crime and should not be taken lightly. Often times the bank or alleged victim will give you an opportunity to pay back the money owed but if you don't pay it back quick enough it can lead to criminal charges for bad checks under 2C:21-5. Once criminal charges are filed you normally lose the option to pay back the money and have the charges "go away" because it is now the State of New Jersey versus you and the prosecutor is in charge of litigating the case, not the alleged victim. Check fraud convictions may include penalties such as probation, thousands in fines and restitution, and even lengthy state prison incarceration.
How Can A Lawyer Defend Me Against Bad Checks?
Have you been charged or arrested for passing bad checks? Our firm's partner, Will Proetta, has defended a wide array of various criminal and municipal charges including bad checks and other theft and fraud offenses. We regularly appear throughout Middlesex County including East Brunswick, Monroe Township, Old Bridge, Perth Amboy, Cranbury, Edison, and South Amboy. Depending upon the particular facts of your case, our experienced attorneys will work with the court in an effort to secure your admittance into Pre-Trial Intervention or to resolve your charge by way of a substantial downgrade or even a dismissal. For example, in one case (State v. L.C.) our lawyers were able secure an outright dismissal for a client who passed multiple bad checks involving several thousand dollars.
If you or your loved is facing charges for the criminal offense known as check fraud or writing bad checks in Middlesex County, then it is in your best interest to contact our office anytime for immediate assistance at (732) 659-9600. We provide a free initial consultation with a skilled criminal defense attorney who will help to build a customized case strategy designed to meet your needs and aimed toward a successful result.
Check Fraud in New Jersey N.J.S.A. 2C:21-5
The law concerning check fraud in New Jersey has been listed below, in pertinent part, for your reading convenience.
N.J.S.A. 2C:21-5 Bad Checks
A person who issues or passes a check or similar sight order for the payment of money, knowing that it will not be honored by the drawee, commits an offense as provided for in subsection c. of this section. For the purposes of this section as well as in any prosecution for theft committed by means of a bad check, an issuer is presumed to know that the check or money order (other than a post-dated check or order) would not be paid, if:
a. The issuer had no account with the drawee at the time the check or order was issued; or
b. Payment was refused by the drawee for lack of funds, or due to a closed account, after a deposit by the payee into a bank for collection or after presentation to the drawee within 46 days after issue, and the issuer failed to make good within 10 days after receiving notice of that refusal or after notice has been sent to the issuer's last known address. Notice of refusal may be given to the issuer orally or in writing in any reasonable manner by any person.
Degrees and Penalties for Writing Bad Checks in New Jersey
| | | |
| --- | --- | --- |
| Second Degree Check Fraud | $75,000.00 or more | 5 to 10 years in state prison; presumption of incarceration |
| Third Degree Check Fraud | $1,000.00 – $75,000.00 | 3 – 5 years in prison |
| Fourth Degree Check Fraud | $200.00 – $1,000.00 | Up to 18 months in prison |
| Disorderly Persons Offense | Less than $200.00 | Up to 6 months in county jail |
Contact a Plainsboro NJ Check Fraud Defense Lawyer
As enumerated above, it is crime to purposely bounce a check. However, under certain circumstances New Jersey state law actually presumes that the defendants in these cases acted intentionally in issuing checks without sufficient funds to cover them. Most bad check crimes are indictable offenses that are handled in the Superior Court of the county in which the offense occurred. At William Proetta Criminal Law, our lawyers dedicate a large portion of their practice exclusively to representing clients for criminal and municipal court charges throughout New Jersey. In our experience, a large percentage of these cases are caused by disputes over fees, simple oversights, or innocent mistakes. As such, our lawyers have a lot of "wiggle room", and can make great strides for our clients through mediation or negotiations with the prosecution assigned to your case or even the alleged victim on your behalf.
Our office is conveniently located in Edison, which allows us to regularly represent clients for check fraud and other theft and fraud crimes throughout Middlesex County including Highland Park, Sayreville, South Plainfield, Plainsboro, Metuchen, and Spotswood. If you or your loved one is facing a criminal charge for writing bad checks, contact us today at (732) 659-9600 for a free initial consultation with a criminal defense attorney who can answer your questions and address your concerns.