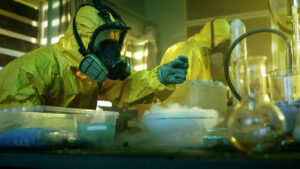 Maintaining a CDS production facility Attorney in Middlesex County
Maintaining a CDS Production Facility Attorney in Middlesex County NJ
Edison Drug Defense Lawyer for Drug Production Facility Charge 2C:35-4
The criminal offense of operating or maintaining a drug (CDS) production facility in New Jersey is one of the most severe crimes in our state. In fact, the state legislature has made the use of a production facility a first degree crime – the same as rape or murder. This action was taken by state legislators in an attempt to target the ever-growing drug distribution market in the tristate area, a market fueled by some of the highest demands in the United States. While most people may think of a production facility of controlled dangerous substances as some secret chemical lab tucked away in a shed or abandoned warehouse brewing up meth and ecstasy, this is often not the case. While you can be charged with violating N.J.S.A 2C:35-4 for operating a meth lab or cocaine production and packaging facility, perhaps the most common type of production facility we see in New Jersey is for Cultivation of Marijuana. Our state's warm growing season and rich soils are perfect for the outdoor cultivation of marijuana, making NJ a popular spot for large operations maintained by "professionals" and teenagers looking to experiment and smoke their own grow. However, growing marijuana indoors has become more popular as the harvest is year round and growers feel there is less chance of getting caught.
Regardless, every year our attorneys are contacted by clients who have been arrested for growing marijuana in New Jersey for any number of different reasons. Each year, state and local police as well as the New Jersey Marijuana Eradication Squad monitor nurseries, suspicious internet purchases, and even electric bills to track down suspected growers. Whatever the circumstances of your case are, you can be sure that we are experienced in defending clients against these types of drug charges and are here to help you. At the Law Offices of William Proetta Criminal Law we represent clients throughout Middlesex County and New Jersey including New Brunswick, Piscataway, Plainsboro, Milltown, Highland Park, Monroe, and Sayreville. If you would like to speak with an experienced criminal defense lawyer contact us today at (732) 659-9600 for a free initial consultation. Our phones are answered 24/7.
What it Means to be Charged with Maintaining or Operating a Drug Production Facility N.J.S.A. 2C:35-4
The New Jersey statute for operating or maintaining a CDS production facility, N.J.S.A. 2C:35-4, applies to the production of all drugs that are labeled Schedule I or II in the New Jersey CDS Schedule. This includes drugs such as cocaine, phencyclidine, heroin, flunitrazepam, marijuana, methamphetamine, gamma hydroxybutyrate and lysergic acid diethylamide (LSD). The law clearly states that any individual who operates and maintains, or in other ways aids the production such as financing or promoting will be subject to the mandatory penalties contained within 2C:35-4.
To be found guilty of operating, promoting, or aiding a drug manufacturing operation, the prosecution must initially prove that you were involved in manufacturing illegal drugs. Manufacturing can be anything from making the drugs by extracting or combining substances from plants or over-the-counter pharmaceuticals to growing marijuana and preparing drugs for sale by packaging and labeling products. Maintaining a facility, another element to prove for conviction, includes using a space on a regular basis to manufacture CDS. So, if you rent a commercial space to a real estate brokerage firm but are aware that an employee of the firm comes after hours to package marijuana products and paraphernalia illegally, then you can be held liable as facilitating the manufacturer of CDS.
What are the Consequences for Maintaining a Controlled Dangerous Substance Production Facility in New Jersey?
Under this statute it is a first degree indictable crime to operate a drug production facility in New Jersey. A first degree offense is punishable by 10 – 20 years in state prison with a presumption of incarceration for even a first time offender. Moreover, if convicted, the court will sentence you to serve a period of 1/3 – 1/2 the incarceration without the ability of parole. To make matters worse, under the Brimage Guidelines, if you have any prior offenses for distribution of CDS then you will sentenced to an extended term of incarceration in addition to all other penalties. These penalties are serious and you need a serious criminal attorney to combat the state's case against you and defend your interests.
Growing Marijuana Illegally & CDS Production Facility Charges
Despite the decriminalization of marijuana, New Jersey takes an extreme punitive stance on certain drug crimes. While personal use of marijuana is not a crime, possessing more than six ounces of marijuana or growing cannabis plants is. You may be considered a distributor of marijuana or an illegal drug producer. Growing marijuana without state authorization and appropriate licenses is still illegal in New Jersey.
Thus, if you are growing marijuana in your backyard, you could be prosecuted under N.J.S.A. 2C:35-4, which prohibits the operation of a CDS production facility. Anyone growing, manufacturing, distributing, working, or funding a drug operation can be indicted for a first degree crime and punished with a twenty-year prison sentence and hundreds of thousands of dollars in fines. It does not matter if you were a mere employee of one of these operations. If you knew what was being produced within an unlicensed facility, you could be charged with violating N.J.S.A. 2C:35-4. Anyone wishing to grow and manufacture marijuana products must register with the Cannabis Regulatory Commission and obtain a license to grow, process, sell, distribute, and deliver cannabis products. Only 37 licenses were made available in the first year of New Jersey's legal marijuana rollout.
Contact New Brunswick NJ Operating Drug Facility Defense Attorneys
If you have been charged with maintaining a CDS production facility, you face serious charges that should be aggressively fought in every way possible. There are many ways to challenge the prosecutor's case, and your attorney will know how based on the circumstances of your case, how it was investigated, the manner in which a search and arrest was made, the quality of the witnesses or informants, and more. Your charges may even be downgraded to straight drug distribution or the state's case can be hindered substantially i the evidence against you was obtained illegally.
At the Law Offices of William Proetta Criminal Law we have defended our clients against thousands of criminal charges including maintaining a CDS production facility. From Edison to South Plainfield and Dunellen to Perth Amboy, we work tirelessly to protect our clients from the crushing penalties that they face. To learn more about your rights and potential representation, contact us today for a case strategy customized to meet your needs. We encourage you to call (732) 659-9600 for a free consultation with an experienced Middlesex County drug charges defense lawyer.