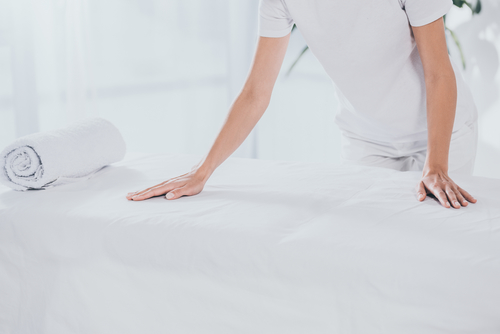 Anyone can be arrested for sexual assault in New Jersey, even the last people you would suspect like priests and massage therapists. Recently, numerous reports have surfaced about massage therapists who are being accused of sexual assault and other sex crimes in NJ. As a dedicated team of defense lawyers for sex crimes and other charges, our Middlesex County criminal defense law firm can provide the critical information you need when someone alleges that you sexually assaulted them. Below provides an overview for your reference and please feel free to contact us directly at (732) 659-9600 to discuss the specific accusation you're facing.
Sex Crime Charges Against Massage Therapists in NJ
A massage therapist who forcibly kisses and gropes a client would likely satisfy the elements of criminal sexual contact charge in New Jersey. NJSA 2C:14-3 defines criminal sexual contact as an intentional, non-consensual touching by the victim or actor, either directly or over or through clothing, of a victim or actor's sexual organs, genital area, anal area, inner thigh, groin, buttock or breast, for the purpose of degrading or humiliating the victim or sexually arousing or sexually gratifying the actor.
If reported to a local law enforcement agency and successfully prosecuted, that massage therapist could face a fourth degree indictable offense (similar to a felony offense in other states). Such an offense carries with it up to 18 months in jail and thousands of dollars in fines. An individual convicted of criminal sexual contact could also be required to register as a sex offender and submit to community supervision for life.
There are a number of other crimes that could apply in even more aggravated situations, including sexual assault and aggravated criminal sexual contact. Prosecutors determine which charge to bring based on the specific facts of the case.
Charged with Sexual Assault at Massage Envy in New Jersey
Massage Envy franchises are ubiquitous in New Jersey and other states. Unfortunately, media reports have revealed that sexual assault lawsuits involving Massage Envy have been multiplying, with 5 sexual assault claims made in New Jersey recently and with over 400 sexual assault claims involving the massage chain nationwide. The National Center on Sexual Exploitation added Massage Envy to its 2019 list of worst sexual exploitation offenders, noting in particular the figure regarding 400 sexual assault claims nationwide.
The ongoing media reports are shocking. A woman from Short Hills, New Jersey has stated that a male therapist forcibly kissed and groped her. Other individuals from Piscataway, Mays Landing, and Closter have also reported assaults at Massage Envy locations. A law firm has recently filed a suit alleging similar claims on behalf of over 93 Massage Envy customers from other states as well.
What else am I Facing for Illegal Sexual Contact in NJ?
In addition to criminal charges, a massage therapist who makes illegal sexual contact with clients could be found liable for money damages in a civil lawsuit. A civil lawsuit would be pursued against the massage therapist or massage chain separately from a criminal prosecution, although a criminal conviction can strengthen a victim's civil lawsuit.
A victim might also be able to purse a property owner who failed to keep the massage area safe from foreseeable sexual assault—or a business that failed to adequately vet or supervise massage therapists—in civil court.
The standard of proof applicable to a victim's civil action alleging sexual assault is lower than the standard of proof to which a prosecutor is held in a criminal trial. Most civil lawsuits must be proven by a preponderance of the evidence—the charges must be shown to be more likely than not true—whereas criminal lawsuits must be proven beyond a reasonable doubt, or to such a degree that jurors are left with an abiding conviction that the charges brought against the defendant are true. In short, it's much easier to win a civil lawsuit than a criminal prosecution, although in situations like those described in the media reports above, victims may see successful results under either standard of proof
Help with Defense for Sexual Allegations in Middlesex County, NJ
If you have been accused of sexual assault, criminal sexual contact, lewdness, or another sex crime, our Middlesex County defense attorneys are here to help. Call (732) 659-9600 for a free consultation with a member of our team today.